Four Harriers made the trip to sunny London for the Hyde Park Relays on the 3rd March. The event consisted of 6 legs of roughly 5.1 kilometres each around the Serpentine in the Park with an extra loop thrown in at the end.  After meeting in the rather inconvenient Imperial student union on the wrong side of the park we were finally registered and heading over to the start by the bandstand.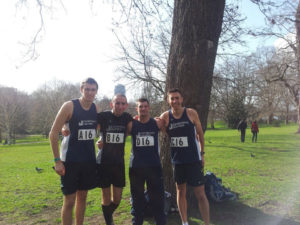 Billed as a University race and with only 4 runners for 6 legs we were not to be put off and Tony McParland managed to relax sufficiently over a pint of Guinness less than 90 minutes before his leg! Rick Austin as team captain and organiser picked the side and sent Mark Ford to start the race with the first of his two legs for the afternoon. Coming in in 17th position Rick took over for his first of two for the day in a good time around the 19 minutes and Simon Jones and Tony McParland continued this trend putting in good shifts to keep the Harriers towards the front of the field.
Simon did do his best to get the Harriers disqualified when he inadvertently ventured onto the road parallel with the path and had to clamber over a horse track and flower bed to get back to where he was supposed to finish. We thought by not taking Steve Clark we would avoid any embarrassments for the day but it seems they cannot be avoided regardless of the personnel.
It began to get increasingly difficult to tell who we was racing against with people on all different legs being lapped and the outside chance of the first placed Cambridge University lapping us! Fortunately this didn't happen and Mark Ford and Rick Austin both finished strongly with their second laps with Rick bringing us home as a true captain should (down the right side of the path) in a very respectable 15th position out of 104 teams in a time of 1.53.15. This was roughly 15 minutes behind the winning team who probably had an average age of 19!
Recommended for all next year. Maybe a coach down would be a good idea and make a full day of it with free facilities put on by the university. Definitely one for the calendar.