8 Oct 2020
Five Harrier ladies set out to run Virtual VLM 2020 in east Kent last Sunday.   SIAN SMITH-KEARY reports:
The day began for me at 6:30am, looking out of the window and only seeing darkness and the rain pouring down — not exactly the conditions you want for running a marathon.  I watched the elite women start their race at 7:15am and am always in awe of the ease with which they run.  It makes me laugh as the commentators say they had a slow last mile at a mere 5:08 /mi.  We certainly wouldn't be doing anything like that today.  We'd decided on a very sensible 10:30 pace.  Our group of Emma, Gemma, Deb, Lidia and I had planned our 26.2 mile round route to go out towards Herne and Reculver before looping back to Blean for the finish.  Emma, Deb and Lidia are very gifted and seasoned marathon runners, Gemma was setting out on her first ever marathon distance, and I, only a few weeks previously, had vowed I would never ever run a marathon EVER again after this one.  It's just not my distance!  But this was London, and I was stubbornly determined it was not going to pass me by for a third time.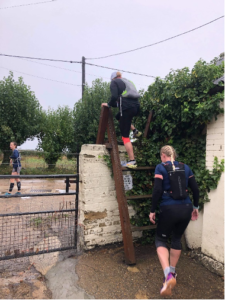 We set off from Emma's at 8:00am after making sure we were ready to go with the app.  It was quite nice as it cheered you on every mile, or at least, the others' apps did…mine didn't play ball and I was about 4 miles out and it didn't cheer at me at all.  I didn't let the rejection get to me though.  It was fairly early on in the run I realised that perhaps planning a trail route wasn't the smartest idea as rain hammered down on us for the first part of the run.  Nevertheless, we were at a steady 10:30ish pace despite the mud, hills and fallen down trees.  We managed to negotiate East Blean Woods and a stile at a farm: it felt like you had to abseil down, it was so high! I was not looking forward to having to go over that on the way back at mile 21.
Spirits were high as we ran; it was so lovely running with such good company.
At various points along the way, walkers clapped and cheered us on which meant so much.  Occasionally when we actually ran on road, cars beeped us and waved when they saw our running numbers.
Our route took us along one of the Saxon Shore Relay legs into Reculver, which was probably the most challenging bit – it was super hilly and windy and a field nearly defeated us as the mud clogged up our trainers until we were carrying a few extra kilos on our feet.  Sadly Lidia was starting to struggle with a previous injury and by the time we'd looped back to Herne she realised that she would not be able to finish.  It was really sad to have to leave her to be picked up, she's part of the team!  She still did an incredible 20 miles, only a month or so after a groin tear.
We stopped quickly at Gemma's parents' house and were tempted by home-made carrot cake but despite the desire to stop we ploughed on the final 10k back to Blean. It was hard-going, and I was just willing Deb's and Emma's backpacks to start cheering which meant another mile down.  I was increasingly struggling with some of my previous injuries but eventually as we entered Clowes Wood the apps hit 26.2 miles and we had made it! Gemma never stopped running so fast! Our elapsed time was over six hours all in all, but our actual time spent running was 4:40:27 so kudos all round.  Special congrats to Gemma for completing her first ever marathon (and last, she swears) and to the whole group despite injury and not enough time to train.  It was a great day and a lot of fun.
Editor:  The runners were (reader's L to R): EMMA GREATRIX, SIAN SMITH-KEARY, LIDIA MODZELEWSKA, DEBORAH PARRIS, GEMMA JEFFREY.