17 Aug 2020
A local 10km event at the University of Kent yesterday was the first chance in five months for Canterbury Harriers to run a race together, along with nearly 150 other entrants.
This was NOT a virtual run!  Pictured here on local territory close to the university gym and sports centre are (chip times in brackets): L to R front row: Emma Greatrix (47:01), Lidia Modzelewska (52:01), Gemma Jeffrey (47:28), Sian Smith-Keary (47:01); L to R back row: Matthew Northover (51:27), Colin Kent (46:08), Andy Farrant (51:10), David Dunn (50:58), Richard Hudson (54:40) and Glenn Wilson (53:36).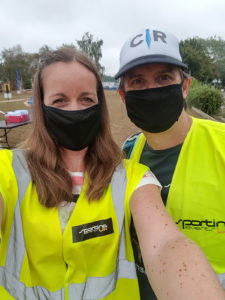 Sammy-Jo Foster and Paul Thompson volunteered as marshals for the race, appropriately kitted with hi-viz and masks.
David Dunn summed it all up afterwards: "It was great to be back racing and it was lovely seeing so many familiar faces — many we haven't seen since lockdown started. The event was brilliantly organized too." 
Last but not least, additional congratulations to Colin Kent: the race happened to be on his birthday.
Yesterday's event was hosted by Sporting Events UK. The route starts at the university pavilion and takes in the Crab and Winkle Way with views across the countryside.
Here are the results for the Harriers:
What will be the next race to run and report on?