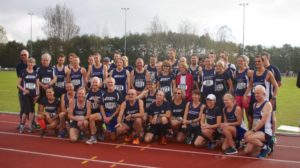 A record numbers of Harriers turned out for the Annual Club Championship 10k race , incorporated in the  Ashford Givaudan 10k , on Sunday 9th October.  Despite the wet conditions there were 48 Harriers finishers in the race, 16 women and 32 men, a club record for any event since being formed in 1993.  As usual there were plenty of PB's, 22 in total, along with 10 debuts and a team prize for the women, courtesy of Jenny Benson, who was also the first female finisher overall in the event( her first ever race win) alongside Jo Norrington and Jennie Gardiner, who ran very impressive PB's in  42.11 and 42.29 respectively.
The men had a great race too, with Simon Jones being the first Harrier back in another PB of 34.29 for 6th place in the event. He was closely followed by Paul Knight and Jacob Hussey, in 37.15 and 38.08 respectively.
Tina Jones was 3rd in the Vet 60 females in a speedy 52.38 and we also had Phil Hadler as the first ever Vet 70 finisher in 1.04.23.
Overall the event was a resounding success and we look forward to doing it all over again next year, lets see if we can beat these records!!
A complete list of the results can be found on the Canterbury Harriers website