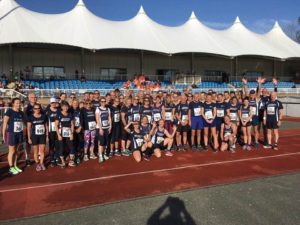 Sunday 7th October saw one of the biggest turnouts the Harriers have ever had in a single race. This was the date for the 4th Club Championship which was run within the Givaudan Ashford 10k.
There was 64 Harriers with a total of 24 PB's including an excellent time of 36.29 for Yiannis Christodoulou, Paul Elderton at 38.37, Simon Cox at 44.37 and Matthew Northover with an impressive 47.45. For the girls there were also some impressive times including Caroline Wetherill at 44.18, Emma Greatrix at 45.55, Emma McCabe at 47.49 and Karen Bennet with a speedy 49.31.
Claire Pluckrose, Caroline Wetherill and Deb Parris also won the ladies team prize for the club.
There were also 2 debuts from Stephanie Foll, 53.02 and Iain Morris, 39.21 and a special mention to Wendy Smith who grabbed the 1st vet 60 prize.
Well done to all those who ran, a full list of results can be found on the results page of the website.