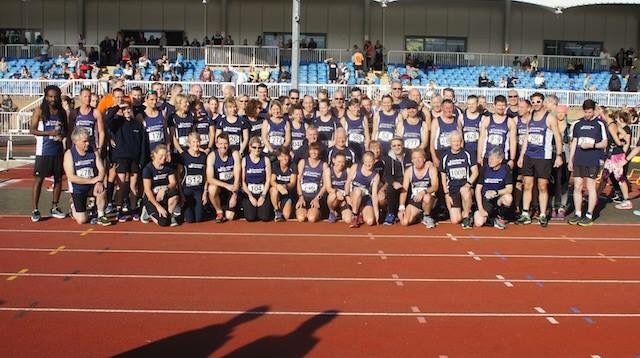 Sunday 8th October saw us going back to the 31st Givaudan Ashford 10K, in near perfect conditions,  for the club championship race for the 3rd year in a row.
There was a record turnout of 58 members, which is the most we have had over the 3 years, not only that, but the biggest turnout for a race in our racing history. Overall 18 PB's were recorded and 7 debuts.
Notable performances came from Jenny Benson, who was 3rd lady overall with 39.28, Wim Van Vuuren who dipped under the 40 mark for the first time, coming in at 39.47 and there were 2 PB's for the husband and wife team of Debbie and Daren Parris, with Debbie once again beating Daren, posting times of 45.05 and 45.29.
The debuts came from Henry Cox, 39.34, Fuse Campbell, 40.49, Claire Pluckrose, 41.44, Simon Cox, 45.12, Tewodros Negash, 46.12,  Karen Thorne, 51.45 and Lidia Hill at 52.32.
In the PB's Fiona Craig went 55.33, Stephanie Bancroft and Tom Jessup both came in at 50.43 for their PB's and Caroline Wetherill in 45.10.
In the overall race standings we had 3 men come in the top 10, new member Rhys Goddard, 3rd, Simon Jones, 4th, and Robbie Higgins 7th, as above Jenny Benson 3rd lady and both the men and women tok the team prizes.   As for the club awards, these will be announced on our AGM on Thursday 12th October
For a full list of results please check the results page on our website.