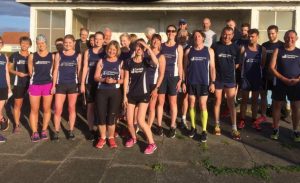 The summer season has come to close and the Canterbury Harriers have had an excellent time with plenty of trophies, race wins and PB's.
Both Nicola Charlton and Fiona Tester have had come consistently within the top 3 of any races they have participated in, including the Stelling Minnis 10k where they placed 2nd and 3rd respectively. Nicola and Fiona along with Gemma Jeffrey also placed first in the summer relay season to retain the Vet 35 A team trophy. There have been plenty of other triumphs including the East Kent and Aylesham 5k in which Sarah Maguire, Melanie Christodoulou and Wendy Smith came 1st, 2nd and 3rd respectively. At the Canterbury Half marathon, which not only is a tough, hilly course, was also one of the hottest days of the year with temperatures close to 30 degrees, Emma Greatrix, not only placed 4th female but was first in her Vet 45 age category and then a week later in slightly cooler conditions, the ladies pulled it out of the bag again, with Hannah Pilbeam on her debut run for the club coming 1st senior female, Fiona Tester not only getting a PB but coming 3rd female and alongside Deborah Paris and Leisa Foad winning the Ladies team prize. Deborah Paris on that day also clocked a huge PB by over 30 minutes, Debbie has consistently been getting PB's across pretty much every race she has participated in.
The men have also had a good season; Peter Hogben won the Canterbury Half Marathon for the second time in 3 years. Yiannis Christodoulou, Simon Jones and Alex Horsley along with Peter Hogben have consistently placed high in all races they have participated in. Alex placing high in the Mount Ephraim 10k in 2nd, Yiannis came 2nd in the East Kent and Aylesham 5k, Simon Jones winning the University of Kent at Canterbury 10k. Mark Peacock raced all 4 of the PodPlus Ashford Summer 10k series and came 1st or 2nd in all of the races.
Harriers have raced all over the world during the summer in lots of different disciplines and distances, from 5k to 50k, from open water swimming to cycling.
We also had 4 members compete for Great Britain, Peter Hogben, came 3rd at the National Championships today for the middle triathlon distance, Yiannis Christodoulou, ITU Aquathlon World Championships came 6th in age group, Simon Jones, ITU Aquathlon World Championships came 10th in age group, Dave Bowden, ITU Long distance Triathlon placed 23rd, all of whom have qualified for next year.
Well done to everyone who has competed over the summer, there have been team prizes, trophies and PB's galore for us, a full list of all of these can be found on the Canterbury Harriers website.