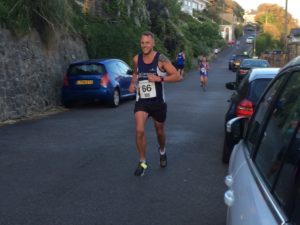 Tuesday night saw the Harriers out in force for the very first of the Summer Relays down in a very windy Folkestone.
There was a large turnout, with 17 men into 5 teams and one of the largest turn out of the ladies team ever, with 18 ladies, making up 6 teams!
Out of the 11 teams that took part 5 of those are currently top of their groups including, both A and B teams for the ladies vet 35, the vet 55 ladies and the A team for the vet 60 men. The other men's teams are very competitive and a special well done to Simon Jones and Peter Hogben who raced back in under 15 minutes, 14.22 and 14.41 respectively.  And a big well done to Jo Norrington who was the second lady to return in a very respectful 17.21.
Well done to all of those that took part, it was a great effort by all. The next one is down in Minnis Bay on Tuesday 31st May, hopefully we can get as many teams out again and keep those teams at the top!