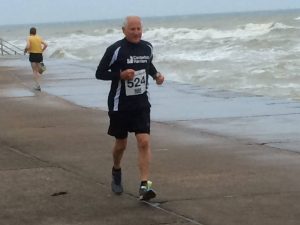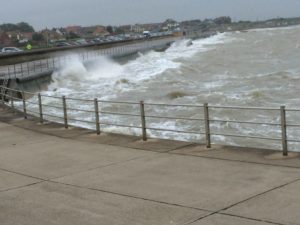 Tuesday 31st May saw  Canterbury Harriers battling against strong winds and some rather large waves down at Minnis Bay for the second round in the summer relays.
There were 5 men's teams and 4 ladies teams taking part on the evening with some excellent performances among both the men and women. Ellen Rowe and Sarah Maguire recorded impressive times under 16 minutes – 15:43 and 15:38 respectively.  Simon Jones for the Men`s Senior A Team had a great run, despite the difficult conditions, completing  his leg in 12:08 with good back up from the rest of his team who all ran in under 15 minutes.
There are still 4 teams at the top of their groups, Ladies Vet 35 A and B teams, the Vet 55 Ladies and the Vet 60 Men B team.
The third round kicks off next week at Victoria Park in Ashford on Tuesday 7th June . Hopefully we won't have to dodge big waves and struggle against strong winds!
All results can be found on the Canterbury Harriers website.