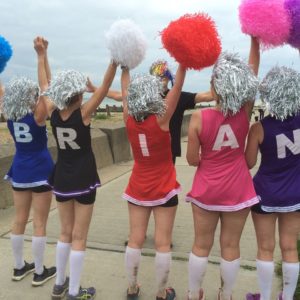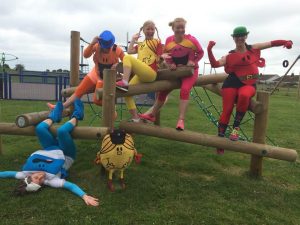 On Saturday 18th June the Canterbury Harriers put out 4 teams to run the
Saxon Shore Relay.
The Saxon Shore Relay is a 47 mile relay race which
follows a section of the ancient Saxon Shore Way in Kent. The race starts
near Folkestone and follows the White Cliffs to Dover and on to Sandwich.
From there the route turns inland through scenic Kent countryside to
Reculver where it again follows the coast to the finish on the sea-front at
Whitstable.
The race is broken down into 22 legs to be run by teams of 4 or 5 runners.
Each team member usually runs 4 or 5 legs of 2-3 miles each (9-12 miles
total per runner over the course of the day).
As each team member runs a leg the rest of the team drive to the end of the
leg where a changeover takes place.
The start time is between 9am and 11am with all teams finishing between 4pm
and 6pm.
Many of the teams dress up using a different theme, and this year one of our teams, Brians Babes, won the award for the best fancy dress, see above photograph, and the Little Misfits were the first all female team to finish, also see above.  Out of the other 2 teams, Team Saga, all male vet 60's, were the highest placed Harrier team coming in at an impressive 7th out of 22 teams taking part.