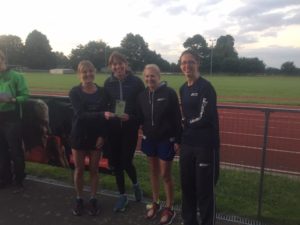 The relay season finale was held in Canterbury on Tuesday 5th July and hosted by Canterbury Harriers in conjunction with Invicta AC.  It was a delightful sunny evening for the final one with a large turnout for the men and the women.
The Harriers put out 8 men's teams and 6 ladies teams.  Both had some impressive times including the vet 35 Ladies A team, Jenny Benson, Fiona Tester and Nicola Charlton who had a combined time of 45:45, the quickest team on the night!  The vet 35 Ladies B team, Gemma Jeffrey, Ellen Rowe and Jennie Gardner also had a good combined time of 50:14.
In the men's race the vet 60's, Andy Farrant, Mick Ellsmore and Bob Davison, had an excellent combined time of 48:50, whilst the men's senior A and B teams, Mike Mawby, Tom Millard, Simon Jones, Yarad Sabhat, James Scanlon, Steve Tugwell, Alex Horsley and Steve Hobbs, both had impressive combined times of 51:22 and 54:02 respectively.
The Harriers also came away with some trophies for the season including the mens's Vet 50, and both the A and B team for the men's Vet 60 also won overall.  The ladies also won both of the Vet 35 A and B overall team prizes.
Well done to all of those that took part this season, we have had some challenging weather conditions this year to contend with.