And so dear Harrier another summer of warm sunshine with occasional showers begins to wane as the shortening evenings draw their shadowy tentacles across the early evening sky, indicating the stark message that autumn and the cross-country season beckon…..
Speaking of summer gone the very popular Friday summer pub runs have been very well attended with a record turn out at 'The Local' organised by Jenny and Neil. However, the food bill placed a large hole in club funds and the pub owner has retired to Barbados for the autumn. Thanks then also to Iain (Hop Pocket), Bob (The Elephant) and Joe (Queens Head and Rose and Crow), Jo (Cat & Custard) and Francis (The Rose) for excellent runs and Friday evening company. It was also good to see non-club members joining the throng and adding to the good cheer and club conviviality.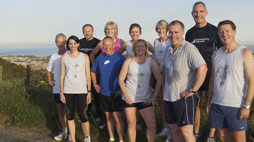 July saw the running of our own Mt Ephraim 10K race now billed as a 'tour of the delightful Kent countryside' to tactfully describe the rather hilly contours! It was generally acknowledged from the field that it was once again a well organised and very enjoyable event. Inside the newsletter Bob writes about the 'French connection' that is now a race feature and Tim, as Race Director, gives his view of proceedings at the sharp end.
The recent summer period also saw the annual August Le Touquet trip organised, once again, by Roy. This year's trip was of special significance as it celebrated Roy's 20th consecutive run at Le Touquet and the occasion  is duly marked in the newsletter.
As autumn draws nearer the club AGM will be held at **7.00pm on Thursday 10th November** at the village hall, Blean. There will not be the customary Thursday training that evening as it is expected that as many members as possible will come along to the AGM to hear and discuss club affairs ('it's not what your country can do for you' etc). High on the agenda is to seek members views on a development plan covering future years. Suggestions for the plan include encouraging more members to become accredited as road running coach, seeking nominations as Race Director and looking at ways of usefully investing the clubs funds into further member benefits. Please make a note of the date and come along to contribute to important proposals to make your membership even more fulfilling.
Although we all spend a lot of time running it would be interesting to note the amount of time that we are injured and unable to run. From Ed's experience of being injured (i.e. most of the time) it is easy to slip into seeing everything associated with an injury as glum and a real downer. Of course no one likes being injured but there can be  a positive mindset that will maintain motivation whilst the muscles, tendons or whatever heal. Read inside for the tips on 'Injury, what injury' to aid recovery  – and all with a smile.
Talking about injuries one of the most common parts of the body to react to training is the humble knee as it is calculated that every step we take whilst running is equivalent to the weight of 14 elephants. Well, if not exactly true (it may only be 12 elephants!) the point is that the knees take a massive force and largely without complaint. The humble knee is rather a clever piece of body kit as it is basically a hinge joint, allowing backwards and forwards motion, but it is also able to rotate slightly in on itself. The bending and straightening of the knee is controlled by the hamstring and quadriceps muscles at the back and front of the thigh bone respectively, and their size and position affects the angles the legs move at, and particularly the way that the patella (kneecap) moves. Our anatomy and the patterns of muscle use also determine the injuries that we might get. In celebration of the humble knee information on what can go wrong and how to strengthen the knee's working parts is highlighted inside.
As ever it is recommended that professional advice be sought in the early stages of any kind of injury.
Other mouth watering articles in this issue include information about registering your race results (previously circulated by e-mail but well worth another airing) and a spotlight feature on Phil Wyard who is making a great impression with a series of recent PB's. Tim still has time to run (outside of his Race Director duties) and reviews his run in the Fairlands Valley Marathon whilst Francis gives his special version of running the Heptonstall Fell race.
Of all the recent club achievements John Hartley's bike ride from Lands End to John O'Groats stands at the summit. But John is in danger of surpassing that achievement with his (and for the most past with Steve) almost completed walk from Dover to Cape Wrath. Read about this epic journey, the stages, the ecstasy and agony, and how John and Steve laid their plans. Well done both.
And finally, last but very much not least, following his announcement last year that 2011 would be his final year in office Marco reflects on his six years as Chairman. The Club has been very fortunate in having a stream of extremely capable Chairmen and Marco with his panache, outstanding good sense, expression of club values and commitment on all fronts has very definitely been no exception. There will be many other opportunities to express thanks to Marco (and to Heather) but let the Newsletter be the first to say THANK YOU for  a job superbly completed and for leaving the baton ready for the next incumbent – Ed
Download the full Harrier Autumn Newsletter now!