There will no doubt be other accounts of the Mount Ephraim 10k event elsewhere.  This article focuses on the many visitors it was a privilege to host from Canterbury's and Whitstable's respective French twin towns of Reims and Dainville.  26 of the 169 finishers in the Mount Ephraim 10k were from Northern France, and there were many more visitors accompanying them.
I should say that while I have written this article, praise should go to Marco for masterminding the logistics of accommodating such a large group of people.  Answers on a postcard as to how many times  Marco shuttled between Whitstable and Canterbury on the Saturday!
Marco, Phil Wyard, his wife Carolyn, myself and my family met Terese, President of the Reims Canterbury Twinning Association, and two of her colleagues at the newly restored Whitstable Castle Orangery on the Saturday for a cream tea before Marco took them off to Canterbury.  Phil and myself stayed on at the Castle in order to meet the contingent from Dainville who consisted of the Mairie, Francoise Rossignol, the Deputy Mairie – Philippe Quadrelle and his wife Caroline, together with their colleague Herve Havet, Daniel Capel, President of the event five Harriers ran in April (Foulees Dainvilloises), and his wife plus two of their colleagues from the town.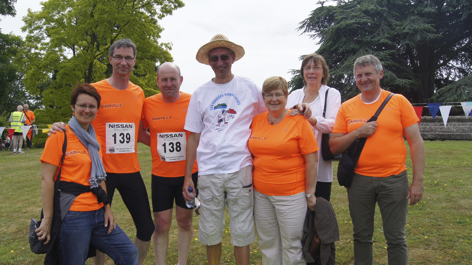 We then gave them a whistle stop tour of the town and harbour, taking in some shopping in Harbour Street, Squeeze Gut Alley and a drink outside the Old Neptune before escorting them to their accommodation at Canterbury Christchurch University's Halls of Residence at Lanfranc in Northgate where the Reims party had also been billeted.  All of this was organised by Marco.
We then all attended an evening reception and BBQ at the Dominican Priory in St Peter's Lane which was hosted by the Canterbury-Reims Twinning Association.  We finished the evening off with a visit to the Parrot pub in St Peter's Lane where everyone enjoyed an English beer or two.
As already noted, 26 French runners completed the 10k course.  20 were from the L'Union newspaper group on the outskirts of Reims where numerous Harriers have in the past enjoyed champagne receptions as part of our annual visit to the city to take part in the 'Reims a toute jambes' 10k and half marathon events.  The families associated with L'Union have also provided Harriers with B&B facilities, saving us the cost of hotels.  Another 4 runners from the Reims Athletics Club – EFSRA – also completed the course,
placing 3rd man and 3rd woman overall, which was a fantastic result.  Harriers have also enjoyed beer and champagne receptions at the 'Reims a toutes jambes' Expo hosted by EFSRA at their stand.  The group supporting all of these runners have in the past been instrumental in arranging visits to champagne houses and producers and hosted evening meals for us in local restaurants.  2 runners from the town of Dainville completed the 10k included the Deputy Mairie.  Philippe and his family hosted Tony McParland and myself when we visited Dainville in April and laid on a fantastic evening meal for all of the visiting Harriers.
Afterwards, everyone enjoyed a sumptuous buffet in the spectacular grounds of Mount Ephraim where we got our visitors to sample some Chapel Down Sparkling Wine which had kindly been provided by the Mount Ephraim 10k sponsors, Baileys Nissan of Canterbury.
Over the past couple of years, we have established really strong links between the towns of Reims and Dainville and both are ready to welcome larger numbers of Harriers to take part in their events in October and April respectively.  If you have never run abroad before, or only have experience of running the Le Touquet 10k, I would urge you to give one of these events a try.  The hospitality provided and the opportunity to establish links with kindred spirits a short distance away on the other side of the channel is a fantastic opportunity.  I am really proud that Canterbury Harriers have been able once again to reciprocate the fantastic hospitality we have experienced both in Reims and Dainville in recent years.   Long may it continue!   Allez, allez, allez!